02/03/2017 - 40 ANS DU PUNK PARTY
| | |
| --- | --- |
| RDV ce samedi 4 mars au Rex (Briouze) pour fĂȘter les 40 ans du punk ! Art Sonic vous propose le plateau spĂ©cial 100% tribute de The Clash, The Ramones et Social Distortion ! | |
>> Voir toutes les news sur PLATEAU TRIBUTE POUR LES 40 ANS DU PUNK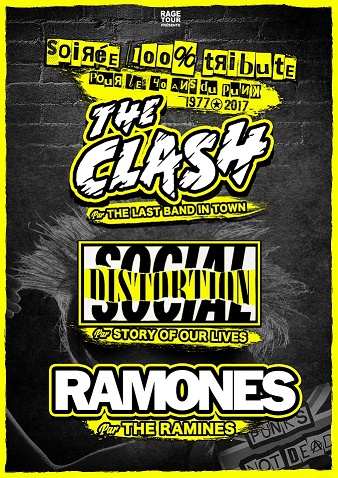 Pour célébrer les 40 ans du Punk 1977-2017, Rage Tour, en accord avec Radical Production, vous propose un plateau spécial 100% tribute de The Clash, The Ramones et Social Distortion pour une soirée mémorable!

THE CLASH par "The Last Band in Town":
Le groupe revisite tous les aspects de la discographie du CLASH du 1er album à COMBAT ROCK en passant par LONDON CALLING et est intégralement composé d'inconditionnels du CLASH , exerçant et ayant exercés au sein de La Ruda , Zenzile , Casbah Club et autre La Phaze.

THE RAMONES par "The Ramines":
"Gabba Gabba Hey ! It's a tribute to THE RAMONES"
Cheveux longs, Perfecto noir, t-shirt, jeans déchirés aux genoux et Converses usées, avec The Ramines on s'y croirait!

SOCIAL DISTORTION par "Story of Our Lives"
Rare tribute du groupe de punk originaire de Californie, aux diverses influences, alliant Rock'n'Roll classique pour la structure des morceaux, Punk pour la hargne et l'énergie, et des mélodies souvent mélancoliques. Connu à la fin des années 70 avec les groupes hardcore comme Black Flag ou The Adolescents, Minor Threat et Youth Brigade.