<object width="243" height="200"><param name="movie" value="http://www.youtube.com/v/G_CPkSEH0IY"></param><param name="allowfullscreen" value="true"></param><embed src="http://www.youtube.com/v/G_CPkSEH0IY" type="application/x-shockwave-flash" width="243" height="200" allowfullscreen="true"></embed></object>
We Are the Problom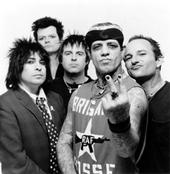 U.S. Bombs are an American punk rock band, formed in 1993. U.S. Bombs consists of vocalist Duane Peters, guitarists Chuck Briggs (who recently died of AIDS-related complications) and Kerry Martinez, bassist Wade Walston, and drummer Chip Hanna. The group put out their first album in 1996, a self-titled four-track EP. Their first full-length album, Put Strength in the Final Blow, was followed by Garibaldi Guard! (Apr. 1996). Before the release of the album Back at the Laundromat, Chuck Briggs left the band. Youth Brigade member Jonny Wickersham took his place.

They have appeared on Premium Blend as the stage band during Jim Breuer's hosting stint, and contributed a track from Back at the Laundromat, "Yer Country", to the soundtrack for Tony Hawk's Pro Skater 4.

In the second semester of 2006, U.S. Bombs toured intensively through Brazil, playing in the Vans ZonaPunk Tour (The brazilian version of the Warped Tour), and released their latest album We Are The Problem, in Brazil.

They are currently on tour again.